Our double wide exterior remodel included new siding, a new roof, replacing the windows, skirting and a new front door. The before and after photos are quite stunning.
Double Wide Mobile Home Exterior Makeover
In 2013, Timothy and I, along with our four small children, purchased our 2002 Clayton double wide. It is a 32×60 with four bedrooms, two bathrooms, living room, dining room, kitchen and laundry room.
We purchased the home out of foreclosure for cheaper than you can buy the cheapest brand new car on the market today. It was structurally sound, with no leaks in the roof, and the floors were in fairly good condition.
There was one soft spot by the front door where water had gotten in but it was something small that we could fix. Despite the neglect over the years, we had a vision for our double wide exterior remodel.
Mobile Home Exterior Makeover
The exterior had been poorly neglected when we purchased the home. Several of the windows had areas that were busted on the exterior pane, the skirting was in poor shape, duct tape had been placed over the deadbolt space, and the stairs were not safe to use.
There were several changes that we knew we could make right away using a cash-only budget. A few of those changes includuded switching out the front door and putting on working locks. We also power washed the exterior and painted the baby blue shutters a different color.
Double Wide Mobile Home Exterior Makeover Before and After
After purchasing the home, we had a lot of work to do. The former tenants had walked away, leaving many of the possessions that they owned behind. These possessions not only included items on the inside, but outside of the as well.
In the photo below, you can see there was part of an old garage left standing. This space was filled with piles of trash. It took us days to dispose of all the garbage.
Then, it took renting some machinery to knock down the remains of the garage to create a place for us to park our vehicles.
Mobile Home Remodel
After living here for a few years, we decided to add a front porch. My husband and I built the porch together, and I got the joy of landscaping around the porch area.
I planted a lot of shade plants around the front of our home. Then, my brother and I built the small garden shed. It was a space that we enjoyed for a few years.
Manufactured Home Exterior Makeover
In 2017, we experienced a horrible hail storm that damaged the roof, our siding, and broke windows. We decided then to do a complete double wide exterior remodel.
With a lot of work needing to be done we decided to hire the work out. We felt that this would be the best way to ensure that the work got done in a timely manner, and done correctly.
Double Wide Mobile Home Exterior Renovation
The exterior got a complete makeover. All of the old shingles were removed, and new shingles were put down on the roof. The windows were also all replaced with new double hung windows, the house was wrapped, new siding put on, and all new skirting put on.
In the process of remodeling the exterior, we chose to remove our front porch so that the work could be done the correct way. If we had left the porch the siding and skirting would have been cut to fit around it.
After the exterior remodel was completed, we decided to leave the porch off. The future plan is to move our home to some property that we have purchased.
Farm Updates
We Bought Land with a Barn
Update on the Land
We Bought More Land
Property Clean Up – Phase 1
Property Clean Up – Phase 2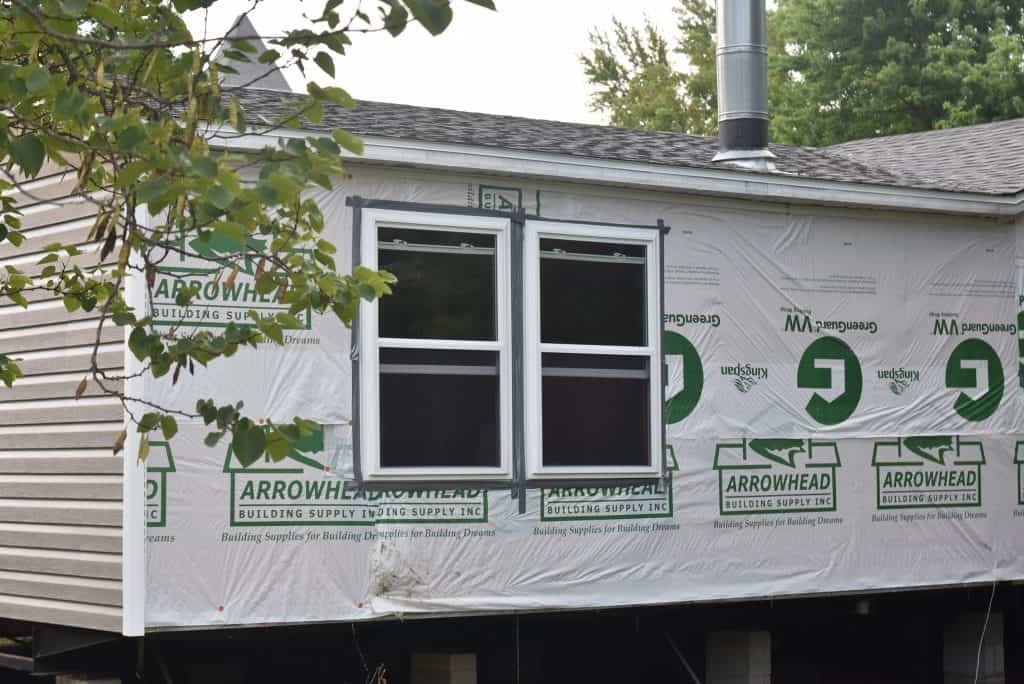 Double Wide Mobile Home Exterior Remodel Before | After
It has been two years since the remodel of the exterior. Having the remodel finished has not only improved the curb appeal, but it has also made a difference in our utility bills. We find it much easier to heat and cool our home since the changes have been made.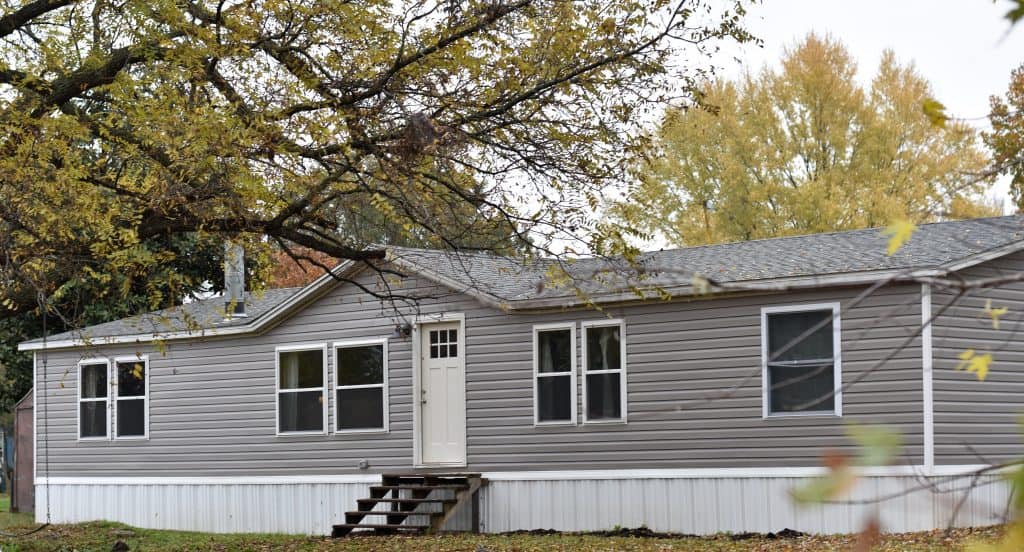 Mobile Home Exterior | New Front Door
As we continue with this remodel, there will be more simple farmhouse style touches added to the exterior of our mobile home. One of those additions includes adding a new exterior back door.
Earlier this year the front door was replaced with a simple shaker style exterior door. It is a regular size door, so the opening had to be cut larger to accommodate the door size.
Then, this past Spring I decided to paint the front door and spruce up the front porch area. After we move our mobile home, we plan to build a large deck across the front. I am looking forward to having a cozy farmhouse porch to decorate and then to relax on.
While we still have plenty of work ahead of us, we know that once our home is finished, it will be one that we take great pride in. This is our forever home, one we look forward to making many more great memories in with our children for generations to come.
[mailerlite_form form_id=2]