Welcome to the first glimpses of our double wide manufactured home farmhouse kitchen cabinet remodel on a budget.
Here is a look at our affordable before and after makeover.
This post is in collaboration with Lily Ann Cabinets. All opinions are mine.
We started our full mobile home kitchen cabinet remodel in February of this year.
I have shared the double-wide kitchen remodel plan, the process of gutting our double-wide kitchen, and most recently our, new windows.
Our kitchen remodel is far from finished. However, I am excited to share the White Shaker Elite kitchen cabinets we have chosen.
The Double Wide Kitchen Layout
For our manufactured home kitchen cabinet remodel on a budget, my husband and I chose to switch the layout of the original plan.
I had a couple of reasons for wanting to do this. One of the main reasons was to put our stove and refrigerator on the same wall.
Personally, I like to have the stove and refrigerator next to each other.
This makes the kitchen flow work better for me as I cook and bake.
The original layout, as seen below, left very little space to prepare meals.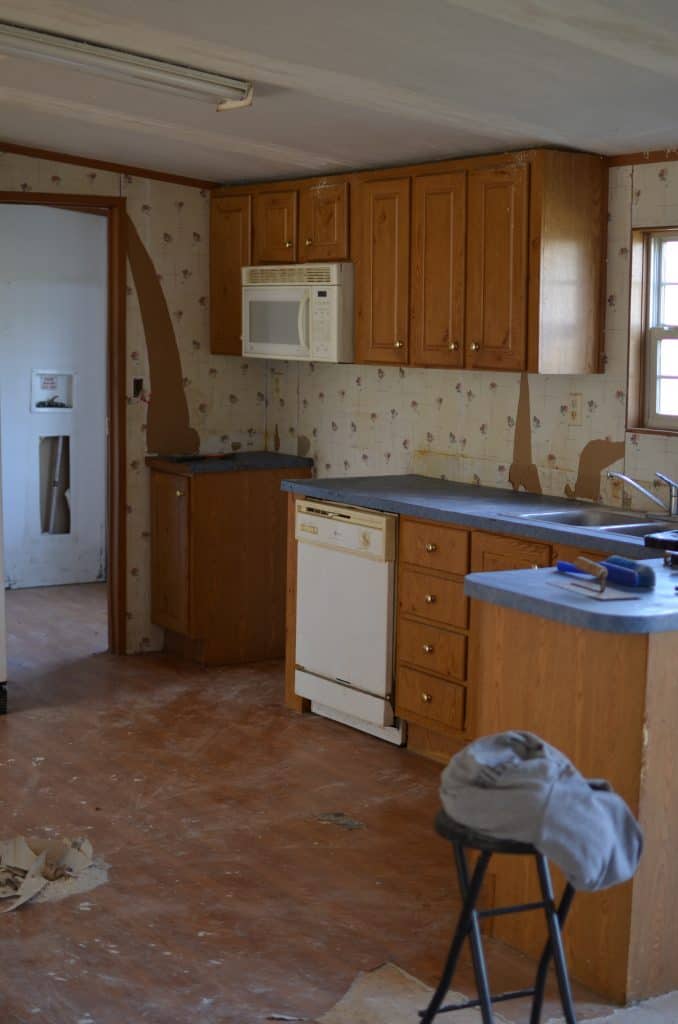 The photo below shows the same wall as above. But, with more windows and more counter space.
Quite a difference, right? I now have a lot more area to prepare meals and the sink is close by for all the dirty dishes to be placed in.
Adding more windows, and removing all upper cabinets, made this space feel much larger and more open.
The photo of the wall below shows how the refrigerator used to be by the door leading into the laundry area.
First, we moved the refrigerator all the way to the left. My husband redid the wiring for the electric stove and moved the stove to this wall.
Stove and Refrigerator Placement
The stove and refrigerator are now separated by an 18″ drawer base cabinet.
I love the use of the drawers on either side of the stove.
There is storage for potholders, utensils, pots, and lids.
On this wall, we will be building another cabinet to go above the fridge and installing a piece between the fridge and cabinets.
My husband installed the Vintage Glass Wall Sconces, and I built the two small shelves.
In the future, we will be adding a DIY stove vent hood in the near future.
New Double Wide Manufactured Home Kitchen Cabinets
Our new kitchen cabinets are from Lily Ann Cabinets.
To start the design process, I sent over measurements of my kitchen to have a free 3D design plan drawn up of our layout.
Within a short period of time, I was emailed the plan.
There were several changes that I ended up making, but I had wonderful customer service.
My designer was always willing to work to make my vision come to reality.
There are a few details I love about what Lily Ann Cabinets has to offer.
The cabinetry is built from furniture/cabinet grade A plywood. The cabinet face frames and doors are either maple or birch. The painted doors are fully engineered. No particleboard or cheap fillers are used in our cabinets.
They offer a free professional design service.
They offer free ¼ cabinet door samples and full cabinet door samples at no cost.
Customer service is wonderful. Almost all of my emails were answered on the same day I sent them.
RTA Kitchen Cabinets on a Budget | Ready to Assemble
All of our cabinets came as RTA.
Ready to assemble cabinets are new cabinets, individually packaged, ready for easy assembly on site.
Instructions were included with some of the boxes. However, we found a lot of the assembly videos online helpful.
The cabinets do not come with hardware for the drawer fronts.
We had the choice of getting hardware from Lily Ann or purchasing our own. I chose to purchase my own.
My husband has started installing the hardware I have chosen, which is a simple Shaker style round wooden knob.
White Shaker Cabinets by Lily Ann Cabinets
Our cabinets are the White Shaker Elite style.
I really wanted a simple shaker style cabinet; these were exactly what I was looking for.
All of our base cabinets, except the sink base, are drawer base cabinets.
I can't tell you how much I love all of the drawers.
They all pull out, with a lot of storage space.
I am not digging through cabinets trying to find what I need anymore and all things are easy to find.
I chose to have one wall cabinet added to the kitchen design.
Where the wall cabinet sits, the original plan was to have a pantry placed in that location.
The pantry ended up being too tall, and I ended up choosing a wall cabinet.
Our Home Kitchen Paint Colors
I have been using Sherwin Williams Snowbound on all of my shiplap walls for quite some time.
It is my favorite white color of all the ones I have used in our home.
I find that Snowbound is a brighter white with a greige undertone.
For our trim, I used Accessible Beige by Sherwin Williams.
Accessible Beige really isn't a beige; it is more greige.
For the black in our home, I have used Tricorn Black, also by Sherwin Williams.
I really wanted to keep our paint colors light and neutral.
I wanted a noticeable difference between the wall color and trim color and these two colors pair together perfectly.
Kitchen Sources
In a future post, I will go more in-depth about our kitchen sources. Here are a few sources for those interested.
Cabinets: All of our cabinetry is the Summit Shaker White series from Lily Ann Cabinets

Vintage Wall Sconce

– the photo on Amazon was not an accurate color of what I received. I used Matte Black spray paint to achieve the finish on mine.
Peg Shelf – I built
Farmhouse Style Mobile Home Kitchen Cabinet Remodel on a Budget
The kitchen remodel will take time. We are working on a cash-only budget, as time and money allow.
The only part of the kitchen process that we had someone else do was the window installation. Our list of things to complete includes,
Build a vent hood
Put up remaining trim work
Do a matte finish on our hardwood floors
and all of the little details like the door handle, hardware, filling nail holes, and painting.
The transformation has already been drastic, and I am anxious to see it all completed.
I know that this could take a few more months, so, in the meantime, I am enjoying what has been completed.
Our next project will be the laundry room/pantry area and we are looking forward to having one of their designers work their magic for that space as well.
Thank you for taking the time to stop by today!