The summer gardens are starting to look a little tired, but now is the time to add a little bit of a warm welcome to the front of a home with several fall porch window boxes.
I love to decorate not only the inside of our home for the changing of the seasons, but also the exterior. Several years ago, I decorated the front of our home with mums, haybales, pumpkins and cornstalks. This year I have not gotten to decorate as much since we were in the middle of moving our home.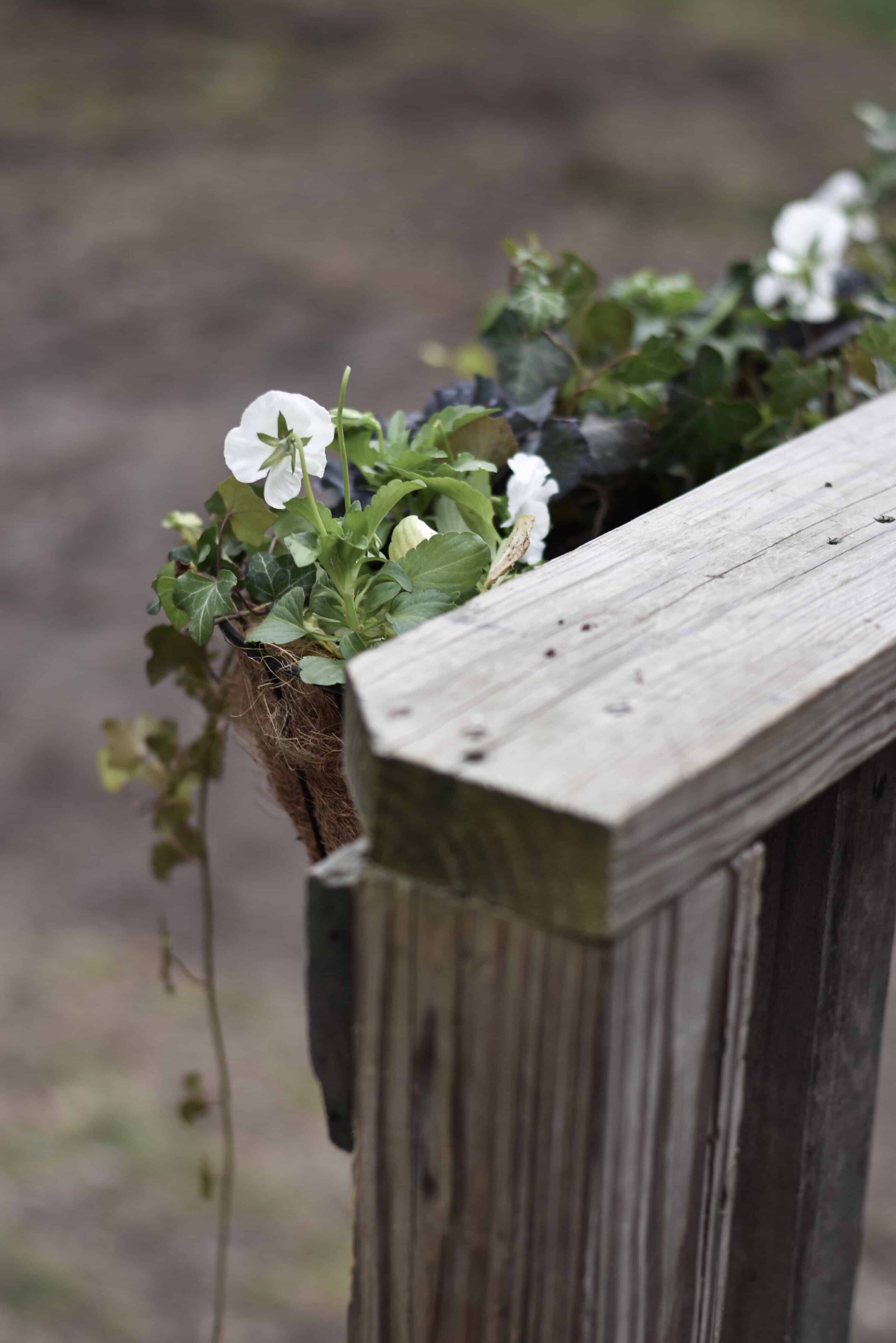 After we got our home moved, I found several black metal window boxes for a marked down price of $5.00 each. Window boxes are most often placed in front of windows, but are easily installed on a porch railing. I picked up two of them and chose to hang them on the porch since I am not ready to have actual window boxes at this time.
Step 1: Choose A Window Box
Manufactured window boxes come in a wide variety of styles. Different materials make up window boxes, such as wood, plastic or metal. Another choice is to make window boxes and I hope to do that next Spring. The window boxes I bought are metal with a coco fiber liner. Window boxes should have drainage holes in the bottom for adequate water drainage.
Step 2: Choose Fall Annuals for Containers
There is a wide array of materials and flowers to choose from for a fall porch window box. Simple choices such as pumpkins, bittersweet berries, gourds, and dried grasses, twigs or ornamental corn. Mums are everywhere this time of the season and with their vibrant colors they are a wonderful choice for window box containers. When using mums in a window box, use the smaller 4" potted mums that will fit easy into the container.
For my fall porch window box, I chose to use Ornamental Kale, Trailing Ivy, and White Pansies.
Ornamental Kale has rich tones of purple with ruffled and feathered leaves. Plant Ornamental Kale with the lowest leaves flush with the dirt. Ornamental Kale can withstand temperatures that get below freezing, lasting through the winter.
Pansies are one of the best choices for fall and even winter window boxes. They come in shades of yellow, orange, purple, and white. Pansies are cold hardy and can still bloom when temperatures hit the 20-degree mark. To prolong the life of pansies, insulate them with straw or mulch when the weather cools.
Trailing Ivy was a summer clearance purchase, but I chose to add it to this planting because of the long trailing formation that the Ivy created. The Ivy will not last as long through the season as the Ornamental Kale and White Pansies but once it has died back, I can add in more Pansies.
Step 3: Create A Fall Focal Point
When I plant flowers in containers, I like to create symmetry in the arrangements. For these window boxes, I started with the ornamental kale and planted two in each of the window boxes. Then, I placed the trailing ivy on either side of the kale. Finally, I filled in the end space with white Pansy's. I also placed some White Pansies in the center between the Ornamental Kale.
As I arrange flowers in a window box, I often take time to step back and look at what I am creating from a distance. Sometimes, I move the plants or angle the plants forward to get the look that I am wanting. Because, these window box containers are seasonal, I sometimes crowd the flowers to create a fuller looking display.
Fall Porch Window Box Design Idea
Window boxes are useful for adding color and charm to the front of a home. While each fall porch window box is simple this year, I love the welcoming touch they add to our home. It is easy to fill each window box with seasonal annuals.
[mailerlite_form form_id=2]