Hard to believe that we have lived in our manufactured home almost 4 years but we have. We have been slowly adding hardwood floors to our home as time and money allows. I share these photos to show the current process we are in and how just some small changes can begin to make a huge difference in a home. No matter where you live or what you live in, you have the ability to make your home beautiful!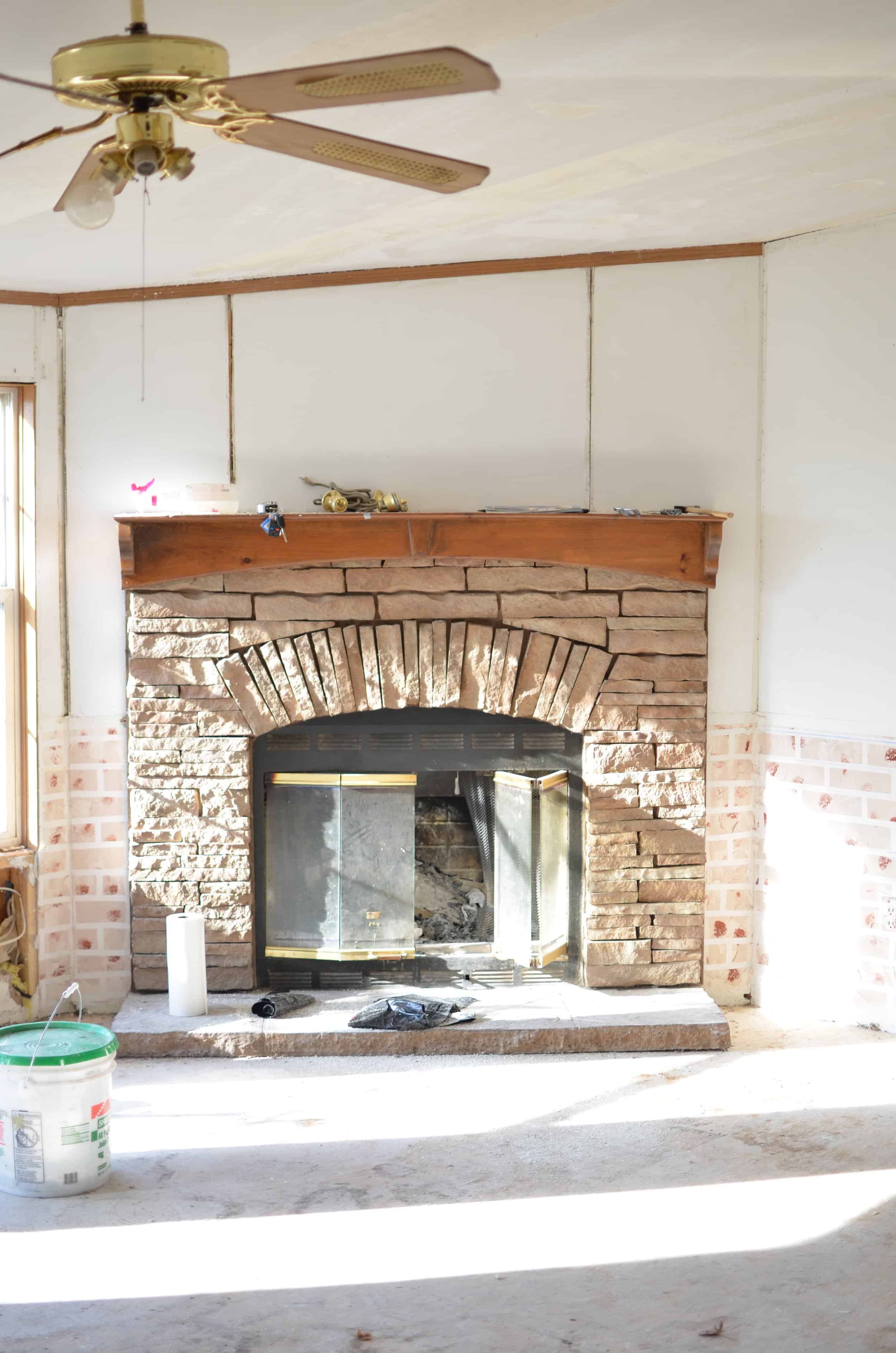 The above photo is what the fire place looked like when we moved into the home. It sat at an angle and took up so much space. So we knocked the wall down and moved it back about 3 feet. This made our living room 3 feet larger and our master bedroom 3 feet smaller. I have never been one to understand a huge master bedroom anyway. We simply sleep in there and I would rather have the space for our family and friends be larger in the living room.
Last winter we put in a different wood stove that is much more efficient and as you can tell we still haven't finished the tile work. We are now in the process of laying white oak hardwood flooring that we purchased from Vermillion Flooring in Springfield MO.
Our flooring is 3/4″ tongue and groove hardwood that is #3 grade. So what does #3 grade mean? #3 common grade hardwood flooring shows more knots, mineral streaks, and color variety than other grades of hardwood flooring and is often a more affordable choice. I personally wanted a rustic looking floor and this is a great choice for that.
Don't you just love that faux brick finish from the previous owners? It was one of the first things that we changed by putting up real shiplap boards.
Several weeks ago we put all new windows throughout our home. We will now be able to trim around all the windows and begin the work on the ceilings and trim.
Fancy that tv stand? I am holding out for what I really want and so far I haven't found it. I really want a cabinet that can hide the tv and all of it's wires. I would love to find vintage but that seems to be near impossible within a great price range.
The wall above is called the marriage wall in a double wide home. When the house is moved they have to pull it apart in two sections. This wall is the support wall and it is the one thing that I dislike about our home. It blocks the view of the kitchen and someday I want to have an actual beam put in and this will be removed. This will allow the kitchen, dining room and living room to be one big open space.
I am often asked would I do this process over again and my answer is yes I would. So many little pieces of our life story have fit perfectly with this home. We have no doubt we are where we are supposed to be. Do I get discouraged with how long the process is taking? Oh sure I do but I know that it is worth it. I can't wait to continue to update the process and share all the new details of the future with you!