Learn how to build cedar raised vegetable garden beds that are affordable and long lasting. These DIY garden bed plans are cheap to build but long lasting and chemical free.
When we purchased our new land, I had the glorious idea to have this entire area tilled up and made into a garden area. The garden season is already quickly upon me, and I knew that I really didn't have the time to spend hours pulling weeds.
So, I went in search of other ideas and decided that I wanted raised garden beds. I wanted them chemical free and made from a material that would last. Learn how you can make budget friendly, long lasting garden beds for under $18.00.
What is a Raised Garden Bed
A raised garden bed is simply a framed box that does not have a top or a bottom. It can be made from a variety of wood, bricks, cinder blocks, rocks and even metal. It is then placed in a sunny location and filled with dirt.
Benefits of Raised Vegetable Garden Beds
Rocks: Here in Missouri, our ground can be very rocky. My last traditional garden space had quite a few rocks that I spent many hours picking up. Using raised beds allows me to add soil on top of the ground and leaves me not having to pick up the rocks.
Growing Season: The soil is above the ground level and warms up much quicker in the Spring. This allows me to start planting earlier in the season. The beds will also stay warmer later into the fall season. So, this allows a longer growing season.
Weeds: Having raised bed helps with weed control. I spent a great deal of time pulling weeds in my traditional garden and I know that with raised beds, I won't have near as many to pull. The few that I do have, I will be able to easily pull out and therefore control the amount that I have to deal with.
Building Raised Garden Beds | A Day in the Garden
DIY Cedar Raised Garden Beds
Materials Needed To Build Raised Garden Beds:
Saw
Drill
Screws
Cedar picket fence boards
Pine fir boards
Weed barrier fabric
How to Build a Raised Garden Bed Tutorial
Step 1: Cut off Tip of Cedar Picket Fence Board
I went to Lowes and purchased twenty-four cedar picket fence boards. These boards would be used for the sides and the ends. These are fence boards so I cut the very tip off where the boards were dog-eared at the top. I left sixteen of the boards the long length and cut the other eight boards in half for the ends.
Step 2: Cut Fir Pine Boards
In order to put the boards together, I purchased six of the pine fir boards and cut them into 11″ pieces. You could also have your local lumber yard do the cuts for you if you can not do this at home.
Step 3: Attach Corner Boards to Side Boards
I placed the pine fir board that was cut at 11″ flat on the ground and screwed my cedar boards to it as shown in the photo above. I did this four times down the side boards to keep my boards sturdy and to prevent any bowing in the boards.
Step 4: Attach the Sides to the End Boards
To form the end of the cedar raised vegetable garden bed, I screwed the boards the cedar boards that I cut in half onto the end of the long sides. I then added another pine fir board to the middle of the end boards for more durability. When I finished building the raised beds, I set them in place.
Step 5: Place Weed Barrier
After I set the raised beds into place, I placed weed barrier under the beds. This will help with weed control in case any weeds try to grow up through the soil.
Step 6: Fill Garden Beds with Soil
The last step before planting in the garden beds is to fill them with good quality soil.
How to Fill a Cedar Raised Garden Bed with Soil
Filling cedar raised vegetable garden beds with store bought bags of dirt can be really costly. These beds are around six feet long and 3 feet wide and have a depth of 11 inches.
I found someone local who charges $25.00 for a truck load of dirt. It is made up of manure and dirt that has been turned and allowed to compost for the past two years. So, search your local for sale sites to see if you can find something like that in order to fill the beds.
I would recommend having the soil tested to see what the PH level is. This will tell you if you need to add anything to amend the soil.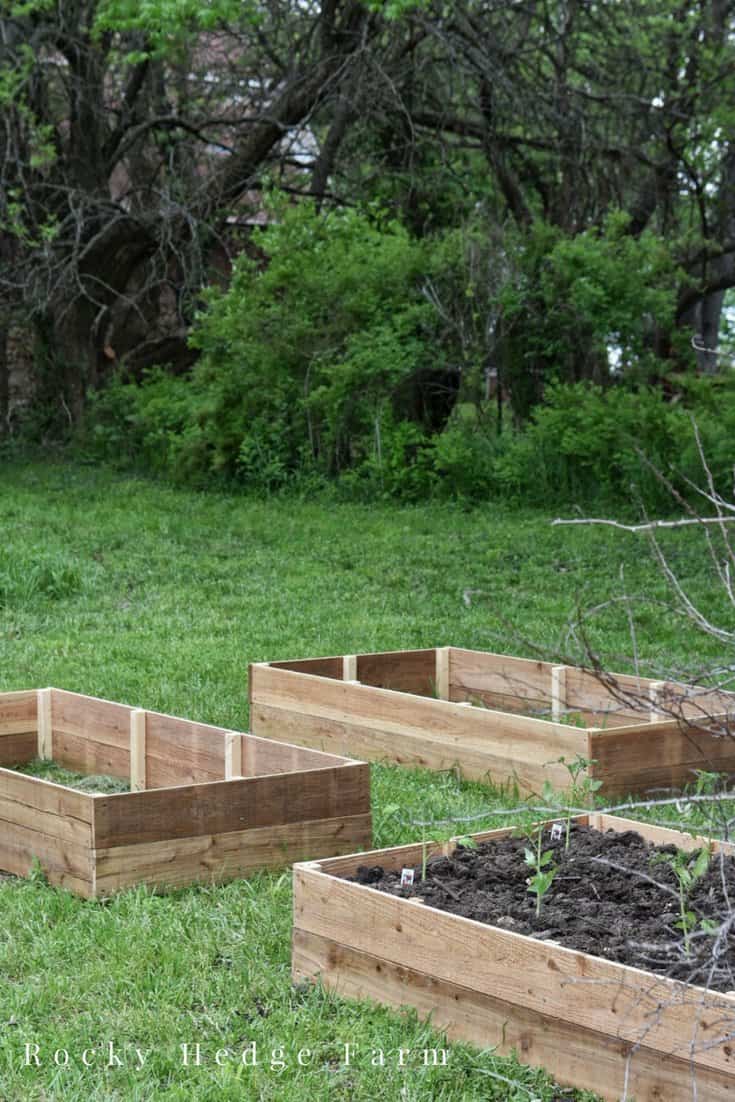 Updated Garden Posts
Building Raised Garden Beds and a Day in the Garden
Raised Bed Vegetable Garden Tour
How Much Does it Cost to Build a Cedar Raised Garden Bed
For this tutorial on how to build cheap cedar raised vegetable garden beds, the cost breakdown for four raised garden beds in 2019 is as follows:
24 Cedar Picket Fence Boards $1.94 x 24 = $46.56
6 Pine Fir Boards $2.07 x 6 = $12.42
Wood Screws $9.47
Total Cost $68.45
Price per Raised Bed $17.12
More Vegetable Garden Posts
2019 Homestead Goals
Butterfly Herb Garden
DIY Slate Vegetable Markers
Tomato Trellis
Tips to Growing a Beautiful Garden
When I am finished, I should have between 16-20 raised garden beds. I have had the traditional tilled garden in the past. It was beautiful but also took a lot of my time to keep it weed free.
Thanks for stopping by! I hope that you have enjoyed this tutorial on how to build raised vegetable garden beds.
It has been a busy few weeks of planting Gladiolus, Dahlias and other flower varieties, transplanting Hostas as well as getting the garden area started. I look forward to sharing more of the process in the upcoming weeks. I hope this has inspired you to build your own raised garden beds.
Flower Gardening Related Posts:
Quaint Rustic Garden Shed
Galvanized Bucket Planters for the Garden
2019 Small Homestead Farm Goals
Vintage and Rustic Flower Garden Decor
How to Plant, Grow and Care for Zinnia Flowers
Herb Garden for Butterflies
When and How to Divide and Transplant Hostas
Double Wide Mobile Home Curb Appeal