A simple DIY organic pest control garden spray recipe to help ward off the pests in the vegetable garden.
I often think about how wonderful it would be to garden without the worries of little critters like rabbits nibbling on my lettuce and carrots. Hornworms chomping away on tomato leaves, squash bugs devouring my squash, and all the other little pests that find my garden delicious.
It doesn't matter how much I think about how nice it would be to avoid these little creatures because they won't just go away without a little action on my part.
That is where this simple and easy all-natural garden pest control spray comes in handy.
All Natural Garden Pest Control Spray
There is a variety of things that can be done in a garden to help control the critters and insects that find the vegetable patch their tasty treat for the day.
Companion planting, attracting birds and good insects, and even handpicking some of the bugs and placing them in a bucket of soapy water.
Then there are the bugs that I don't always see, like the ones that are eating holes in my sweet potato plants. So, that is when I pull out the spray.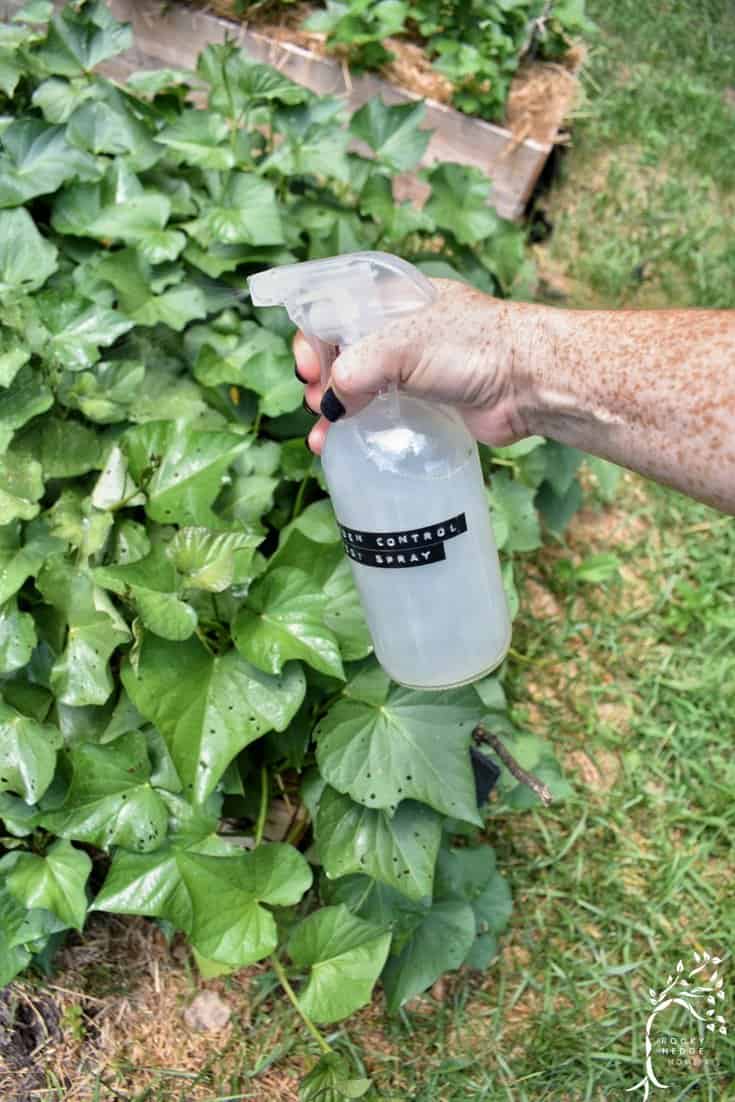 Organic Pest Control Garden Spray Recipe Ingredients
This post contains affiliate links; I make a tiny commission off any purchase that you may make. This small commission helps you keep Rocky Hedge Farm going at no additional cost. Please see my disclosure policy for more information.
You can find my favorite essentials can be located on my Amazon storefront. While I often try to link to the exact products you see in my photos and videos, my pieces are usually vintage and thrifted. However, I try to find and connect replicas as much as possible, made in the USA or by other small shops, as I believe in supporting hardworking American families.
Glass Spray Bottle
1 Tbsp Liquid Peppermint Castile Soap
12 drops Peppermint Essential Oil
Water
How to Make Organic Garden Pest Control Spray
Mix Ingredients
Place the peppermint castile soap and essential oil into the glass spray bottle, then fill the rest of the bottle with water.
*tip*
I usually spray the leaves of my plants in the evening time. This helps to avoid having the plant leaves "burn" in the hot summer sun.
More Vegetable Garden Related Posts
2019 Small Homestead Farm Goals
Galvanized Bucket Planters for the Garden
DIY Slate Vegetable Garden Plant Label Markers
Herb Garden for Butterflies
Raised Vegetable Garden Beds
Easy DIY String Tomato Trellis
Best Gardening Tips to Create a Beautiful Vegetable Garden Design